Virtual Pickle Eating Contest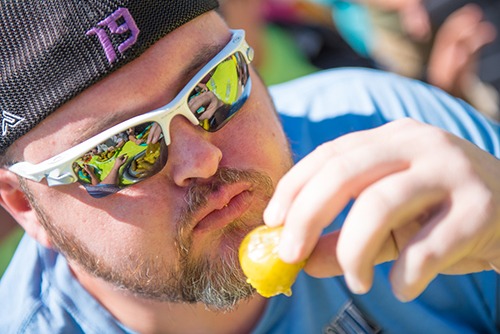 Easily the highlight of the North Carolina Pickle Festival, the Pickle Eating Contest features up to 14 people vying for the honor of Champ in male and female divisions. So, even in a virtual world, we knew we had to bring this forward for 2021.
Want a chance to compete in the 2021 #NCPickleEatingContest?
Create a video, no more than 30 seconds in length, on why you should be a #NCPickleEatingContest finalist.
Semi-finalists will be chosen at random and shared on the festival's Facebook page for online voting from March 24 - March 31.
15 videos with the highest votes – 12 finalists and three alternates – will compete in the actual contest.
Finalists and alternates will be announced shortly after!
The winner will receive $100 in prize money, a year's supply of Mt. Olive Pickles (in the form of free product coupons), and a North Carolina Pickle Eating Champion trophy.
 Next Steps
Once the finalists and alternates are identified, the North Carolina Pickle Festival will send by registered mail two free Mt. Olive Pickles coupons to each. Finalists will redeem the coupons at their local grocery store for two jars of Mt. Olive Kosher Dills, gallon size – UPC 09300 12833. These are the only items that can be used for the contest.
Substitutions are not permitted and will disqualify the finalist from competing. The jars must remain unopened until the start of the contest.
On the day of the contest, each finalist must have on hand a plate or platter, their jars of pickles, and a bottle of water. These things must be visible in the camera frame for the entire time. We also require that finalists have at least one other responsible person present in the room for the contest. (Spectators and fans are encouraged within social distancing guidelines.)
To start the contest, finalists will be asked to open their first jar and count out 20 whole pickles on their plates/platters. The second jar can be opened as needed to complete the 20 whole pickles requirement. Once everything is in place, the contest will begin. The contestant that eats the most whole pickles in five minutes' time will be declared the winner. Partially eaten pickles will not be counted.
Contestants must be 18 years of age and have the capability to participate via Zoom on a desktop or laptop computer, or tablet. Use of mobile phones for the actual pickle eating contest will not be allowed.
Finalists and alternates must complete the contest application and sign the Release of Organizers and Sponsors on the next page. All decisions made by event judges are final.
Register Here for Festival Updates