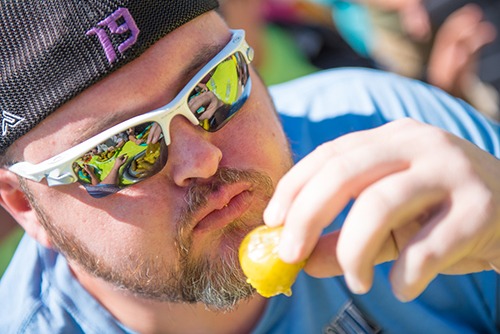 If Peter Piper ate his weight in Mt. Olive pickles, how many Mt. Olive pickles did Peter Piper eat?
It doesn't really matter, does it? We want to know how many Mt. Olive pickles can YOU eat, and how quickly can you eat them! If you think you have what it takes to win, register here for a chance to be selected for the 2023 North Carolina Pickle Festival's Pickle Eating Contest!
The Pickle Eating Contest takes place at our main stage area on Saturday, April 29th at noon. Up to 24 contestants will be accepted to participate. Contestants will be selected from this pre-registration only.
For the contest, each participant will receive a tray of Mt. Olive whole Kosher Dills. Each tray will contain 20 pickles. Participants will be given 5 minutes to eat as many as they can. A winner in each category, male and female, will be declared based on the number of pickles eaten.
Partially eaten pickles will not count. All decisions made by event judges are final.
Winners will receive $100 in prize money and a North Carolina Pickle Eating Champion trophy.
*APPLICATIONS FOR THE PICKLE EATING CONTEST HAVE BEEN CLOSED!*
Those of you who have registered should watch your emails for details regarding contest selection. Expect notification by April 15.
Terms & Conditions
PLEASE NOTE: REGISTERING HERE DOES NOT GUARANTEE A SPOT IN THE CONTEST. By submitting this application, you will be entered for a chance to be selected for the contest. Participants will be chosen from the registration in advance and you must register here to be considered.
YOU MUST BE 18 YEARS OF AGE OR OLDER TO PARTICIPATE. Transportation to and from the festival, lodging and travel expenses will not be provided and are the responsibility of the contestant.
Contestants selected for the contest will be notified by email and asked to confirm their attendance no later than April 15th, 2023. Alternate participants will also be selected from this list and asked to participate, if needed. All contestants will be required to sign the Release to Organizers and Sponsors to be considered and/or to participate.
Register Here for Festival Updates